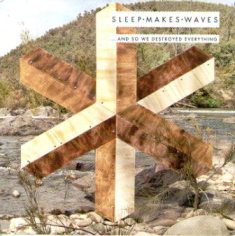 Pubblicato il 19 Lug 2013
Scritto da Gianluca Camogli
Arrivano i cd da recensire e mentre li scorro veloce per decidere quali ascoltare leggo Sleepmakeswaves: – ma questi li conosco, sono australiani, fanno post rock!
Qualche anno fa ero un appassionato divoratore del genere, a tal punto da spingermi nei meandri della rete per cercare sempre dischi nuovi. Nel 2008 mi era capitato di imbattermi nelle tracce scaricabili gratuitamente, con tanto di copertina al seguito, della prima prova omonima e dell'EP "In Today Already Walks Tomorrow".
I quattro  australiani sono cresciuti e la partenza è delle migliori: To You They Are Birds, To Me They Are Voices In The Forest si compone di una leggera e breve intro che precede un muro di suono, in cui la batteria si distingue bene a scandire il tempo, seguito da una parentesi trionfale e da un finale quasi epico-sinfonico.
In Limbs And Joints presenta una sfumatura più post hardcore (influenza dei connazionali Pelican) mentre la traccia 3 sembra uscita da un cd della Morr Music, per via della marcata componete elettronica. Ma serve solo per essere traghettati verso A Gaze Blank And Pitiless As The Sun dove ritroviamo strutture simili alla canzone iniziale, anche se con riff di chitarra decisamente più metal.
(Hello) Cloud Mountain è forse la canzone più brutta dell'album, poco incisiva, forse troppo spirituale.
Nel momento centrale del disco in cui ci aspetteremmo un esplosione sonora, questa non avviene: la traccia 6 infatti è più tranquilla, ma decisamente più emozionale e sentimentale.
We Like You When You're Awkward ripropone sonorità elettroniche e melodiose e anticipa l'ultimo capitolo, in cui ritroviamo le vibranti chitarre in un'alternanza di ritmi e sonorità tipica del genere, mescolate sul finale con suoni digitali.
And So We Destroyed Everything è un album in cui le canzoni non sono mai monotone e non si ripetono nemmeno nelle variazioni di intensità; un disco post rock che riesce a trasmettere le giuste emozioni, da ascoltare a volume alto in uno stereo in grado di farne apprezzare la pulizia dei suoni.
Se vi piacciono quindi Mono, Red Sparowes, Explosions In The Sky, This Will Destroy You (sarà per caso una mezza citazione?), Mogwai, non potete non apprezzare questo gruppo.
E trovate un mese di tempo, perché probabilmente lo sentirete in loop.
Il secondo cd è una serie di remix, che variano ovviamente a seconda dell'artista. Difficile quindi esprimere un giudizio, dato che la questione diventa molto soggettiva.
Tracklist :
Disc 1
1 To You They Are Birds, To Me They Are Voices In The Forest
2 In Limbs And Joints
3 Our Time Is Short But Your Watch Is Slow
4 A Gaze Blank And Pitiless As The Sun
5 (Hello) Cloud Mountain
6 Now We Rise And We Are Everywhere
7 We Like You When You're Awkward
8 …And So We Destroyed Everything
Disc 2
1. Our Time Is Short But Your Watch Is Slow – 65daysofstatic remix
2. In Limbs And Joints – rosetta remix
3. To You They Are Birds, To Me They Are Voices In The Forest – klue remix
4. A Gaze Blank And Pitiless As The Sun – tangled thoughts of leaving remix
5. We Like You When You're Awkward – kyson remix
6. To You They Are Birds, To Me They Are Voices In The Forest – atlantis remix
7. Now We Rise And We Are Everywhere – glasfrosch remix
8. Hello Chip Mountain – ten thousand free men and their families vs. sleepmakeswaves
9. After They Destroyed Everything – AM Frequencies remix
Line-up :
Kid – guitars
Tom – guitars
Alex – bass, programming
Will – drums