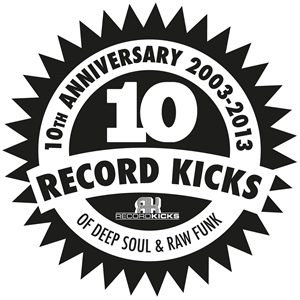 Set up by Nick Record kicks in 2003, RECORD KICKS is a Milan based independent record label home to home acts such us CALIBRO 35, The BLUEBEATERS, HANNAH WILLIAMS & The TASTEMAKERS, THIRD COAST KINGS, The LIBERATORS, NICK PRIDE & The PIMPTONES, TRIO VALORE, DOJO CUTS, SOULSHAKER & Let's BOOGALOO compilations and many more.
Record Kicks has been constantly pitching black grooves for the last 10 years. All started in 2003 thanks to the effort of Milan based record collector, dj and black music enthusiast Nick (Recordkicks), with volume one of SoulShaker (now we're at n.7), a newly collection dedicated to the contemporary funk & soul scene. Not much funk bands were around in that period, Daptone Records was just at the beginning and Neal Sugarman was very surprised in receiving a phone call from Milan with a license request for his newly Sharon Jones & The Dap-kings project.
Since then we have been putting the spotlights on the contemporary funk & soul scene – with frequently excursions into afrobeat, dancefloor jazz and rock steady – releasing new artists from all over the planet. Over 51 artists in total on more than 150 releases mostly on vinyl. RK also pressed and released over 50,000 45s vinyl, like a huge pile of singles taller than Milan's Duomo. Aside from new bands we've also re-released forgotten pearls from the past by legends like Betty Wright, Barrino Brothers, Robert Moore, Panama's Soul Fantastics and even brand new singles after years from Motown legend Floyd Lawson and Trojan Record star Susan Cadogan. Aside from the continuos support of a growing number of aficionados all over the world,
Record Kicks counts VIP fans like DJ Andy Smith & Jazzman Gerald who respectively compiled for us Let's BOOGALOO vol.4 and vol.5 comps, David Rodigan, Craig Charles, DJ Snowboy, Mark Lamarr, Kenny Dope and dr.Bob Jones.
www.facebook.com/recordkickslabel
http://bandcamp.recordkicks.com