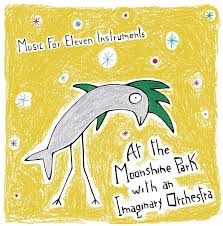 Pubblicato il 16 Mar 2016
Scritto da Francesco Cerisola
Passati sei anni da "Business Is A Sentiment", il siciliano Salvatore Sultano, ritorna con il suo eccentrico progetto Music For Eleven Instruments. Il nuovo lavoro, At The Moonshine Park With An Imaginary Orchestra, proseguendo su fresche sonorità indie pop/folk, coinvolge un ampio numero di musicisti (Riccardo Napoli, Salvatore Fichera, Angeo G. Mauro, Carmelo Russo, Dario Milkitano, Matteo Blundo, Chiara D'Aparo, Marina La Torraca, Mario Musumarra, Yuri Furnari, Antonino Carbonaro, Antonino Parasiliti) e si suddivide in nove solari capitoli.
Il luminoso aprirsi di Conspiracy Over My Head, fra vivaci tastiere e svariati altri interventi sonori, introduce il mix di pianoforte, basso e batteria dell'emotiva Tunnel Vision (la cui seconda parte è decisamente carica di divagazioni) e l'abbaiare (sopra cui fioriscono intriganti melodie d'archi e fiati) di Ghost Dogs.
Il fascino salterino di Sorrow Of Some White Birds Turned Black, procedendo a singhiozzo come se stessimo saltando da una gobba all'altra di un cammello (senza essere nel deserto), lascia che a seguire sia il morbido glockenspiel di Good Morning Imagination (accompagnato da archi, batteria e chitarra) e il disteso scivolare della leggera e spensierata When The Light Waits Behind The Darkness.
L'andamento ipnotico di Lost Boats, invece, tra chitarra, voce e batteria, tiene con il fiato sospeso per tutta la sua durata, aprendo alla fresca luminosità di Fragile Butterfly Wings (animo disteso, atmosfere limpide) e alla lieve pensierosità della conclusiva Little Spiteful Thoughts.
Il nuovo lavoro lungo di Salvatore Sultano convince con il suo indie pop/folk fin dal primo istante. I nove brani presentati, infatti, mostrando una cura maniacale per gli arrangiamenti e per le melodie, scorrono fluidi dall'inizio alla fine, non presentando alcun difetto. Se siete appassionati di Eels, Beirut e simili, non potrete non rimanere colpiti da questo disco.
TRACKLIST
1. Conspiracy Over My Head
2. Tunnel Vision
3. Ghost Dogs
4. Sorrow Of Some White Birds Turned Black
5. Good Morning Imagination
6. When The Light Waits Behind The Darkness
7. Lost Boats
8. Fragile Butterfly Wings
9. Little Spiteful Thoughts