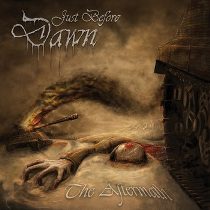 Just Before Dawn – The Aftermath
Mastodontico progetto che raccoglie una manciata di artisti della scena death metal svedese, i Just Before Dawn, nati da un'idea di Anders Biazzi dei Blood Mortized ex Amon Amarth, aiutato dall'altrettanto storico Rogga Johansson dei Paganizer ed un'altra decina di band.
I due guerrieri del death metal scandinavo si dividono i compiti, il primo scrivendo musica e suonando gli strumenti, il secondo scrivendo i testi dei brani e martirizzando il microfono, con questo secondo lavoro volto a bombardare di metal guerresco ed epico i fan sparsi per il mondo.
In questo devastante e bellissimo The Aftermath, si scambiano il microfono un nugolo di artisti della scena, protagonisti nell'anno agli sgoccioli, con le proprie band, di ottimi lavori di genere come Gustav Myrin, compagno di Anders nei Blood Mortized, Jonas Lindblood (Puteraeon), Ralf Hauber (Revel In Flesh), Mr. Hitchcock (Zombiefication), Dennis Johansson (Plasterd, Headstoned) e Tony Freed (Godhate).
Across The Battlefield funge da intro: i soldati si preparano alla battaglia, che risulterà impietosa, massacrante, una carneficina, annunciata dal riffone spaccaossa di Lightning War, che ci fa entrare subito nel vivo di un lavoro spettacolare.
Senza un attimo di tregua l'album prosegue su coordinate care al death metal old school, con ritmiche indiavolate e solos velocissimi e lancinanti, che portano il marchio di fabbrica del genere, puro swedish sound, non fosse per l'atmosfera guerresca che sa molto anche di Bolt Thrower.
Epico e tonante, The Aftermath è un altro centro pieno per la rinata scena nord europea, composto da brani di livello molto alto, guidato con sapienza dai musicisti coinvolti; il clima da tregenda accentua il dramma epico che la guerra si porta con sé, descritto ed esaltato da brani devastanti come Soulburner, Incomming, Death From Above, aperta dalle sirene che avvisano l'imminente bombardamento, colossale song basata su un crescendo di tensione terrorizzante, Bastogne e la conclusiva titletrack a porre la parola fine su un'opera di metal estremo monumentale.
Impossibile da ignorare per i fan del genere, The Aftermath conquista, non fosse altro che per la presenza di una manciata di straordinari talenti, senza tralasciare l'importanza di un songwriting enorme.
Prendete elmo e fucile e preparatevi all'assalto insieme ai Just Before Dawn.
Tracklist:
1. Across the Battlefield
2. Lightning War
3. Soulburner
4. Incomming
5. Bastard Battalion
6. Death from Above
7. Device of Utter Death
8. Bastogne
9. Through the Mud
10. Blitzkrieg Brigade
11. Feast of the Firedemon
12. The Aftermath
Line-up:
Dave Ingram – Vocals
Thomas Wouters – Vocals / Guitar
Rick Rozz – Guitar
Dennis Johansson – Vocals
Ronnie Björnstöm – Guitar
Håkan Johansson – Vocals
Teddy Möller – Vocals
Jocke Mikiver – Vocals
Johan Jansson – Vocals
Jonas Stålhammar – Vocals
Rogga Johansson – Vocals
Anders Biazzi – Guitars/bass
Jonas Lindblood – Vocals/Solos
Gustav Myrin – Vocals/Solos
Ralf Hauber – Vocals
David Nilsson – Vocals
Matthias Borgh – Drums
Brynjar Helgtune – Drums
Marc Grewe – Vocals
Mathias Lordmalm – Vocals