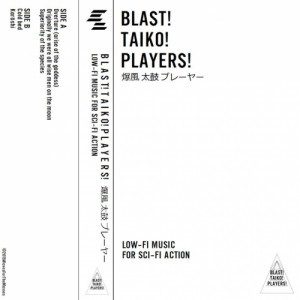 Blast! Taiko! Players! – Low – Fi Music For Sci – Fi Action
Il savonese Daniele Signorello (già The Washing Machine e L'Inverno Della Civetta), nascostosi dietro al nome Arikiji Tomo, debutta in versione solista con il progetto Blast! Taiko! Players!. Il lavoro pubblicato, stampato in audiocassetta per Waves For The Masses, si chiama Low-Fi Music For Sci-Fi Action ed è un piacevole ep di cinque brani che guarda al post rock con un gustoso e sgranato approccio lo-fi.
A dare via al lavoro sono i tre minuti di Overture (Arise Of The Goddess) che, tenendo in sospeso per tutta la loro durata con il morbido cavalcare di basso, synth e chitarre, catalizzano l'attenzione, in attesa che arrivi Originally We Were All Wise Men On The Moon ad avvolgerci con il suo piglio luminoso e assonnato, come il sole al mattino.
Superiority Of The Species, invece, con il suo ripetitivo riff di chitarra, narcotizza e avvolge, fino ad introdurre il pacato procedere, fatto di chitarra elettrica e voce, dell'ovattata Karoshi.
Cold Bed, infine, solare ed energica cavalcata sonora, chiude il lavoro nel migliore dei modi.
I cinque pezzi proposti, da ascoltare uno dopo l'altro quasi come fossero una cosa sola, scorrono via in maniera piacevole e delicata. Un lavoro che mette insieme dream pop, post rock e attitudine lo-fi in maniera intelligente e curata. Un debutto promettente che vede in Originally We Were All Wise Men On The Moon e Cold Bed i suoi cavalli di battaglia.
Tracklist:
01. Overture (Arise Of The Goddess)
02. Originally We Were All Wise Men On The Moon
03. Superiority Of The Species
04. Karoshi
05. Cold Bed
Line-up:
Daniele Signorello