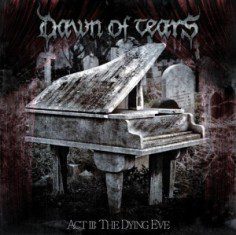 Dawn Of Tears – Act Iii: The Dying Eve
Produzione cristallina per un album ben suonato e interpretato con il giusto piglio dal growling del vocalist J.Alonso; la band picchia senza risparmiarsi e già dall'opener A cursed Heritage le somiglianze con il capolavoro dei Dark Tranquillity "Projector" sono evidenti.
Nel corso dell'album qualche rallentamento di stampo gothic, con la presenza di una voce femminile, spezza la tensione che rimane comunque alta, e quando la band schiaccia sull'acceleratore, come nella bellissima The Darkest Secret, ecco che fanno capolino i Children Of Bodom.
Anche se un pò troppo derivativo l'album piace, i brani sono ottimi e la band suona compatta,quindi avanti cosi!
Tracklist:
01. A Cursed Heritage
02. Present Of Guilt
03. Lament Of Madeleine
04. The Darkest Secret
05. Silent As Shades Are
06. Angel Gone
07. The 7th Seal
08. Oceans
09. Prize Denied
Line-up:
J. Alonso – Vocals
J.L. Trebol – Guitar
Johnny W. – Guitar
R. Sendra – Bass
I. Perez – Drums