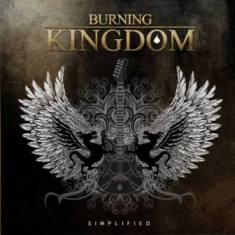 Burning Kingdom – Simplified
In questo album le tastiere sono relegate al mero accompagnamento ed il sound ne giova in durezza,risultando così non troppo sdolcinato anche in occasione delle ballads.
Spiccano, tra le varie tracce, Wacthing As It Burns, brano scelto come singolo, That's My Boogie, pezzo bluesy dove riff e assoli lo incoronano quale apice del disco e The One That Almost Got Away, molto vicino al Sammy Hagar solista.
La title-track, brano lineare costruito, questo sì, su un tappeto di tastiere, ci accompagna alla fine di un disco ben riuscito; la produzione fa sì che si abbia sempre l'impressione di un lavoro suonato dal vivo e ruvido il giusto per piacere anche a chi e' orientato verso sonorità più massicce.
Tracklist:
1.Stay awake(intro)
2.Watching as it burns
3.From on high
4.That's my boogie
5.The one that almost got away
6.We are a wall
7.I will fight no more forever
8.Falling down
9.Killing time
10.Skeleton trbe
11.Simplified
Line-up:
Danny Vaughn-Vocals
Manuel Soanne-guitars
Johnny Benson-drums
Tosi Galen-bass
Mikkel Henderson-keyboards