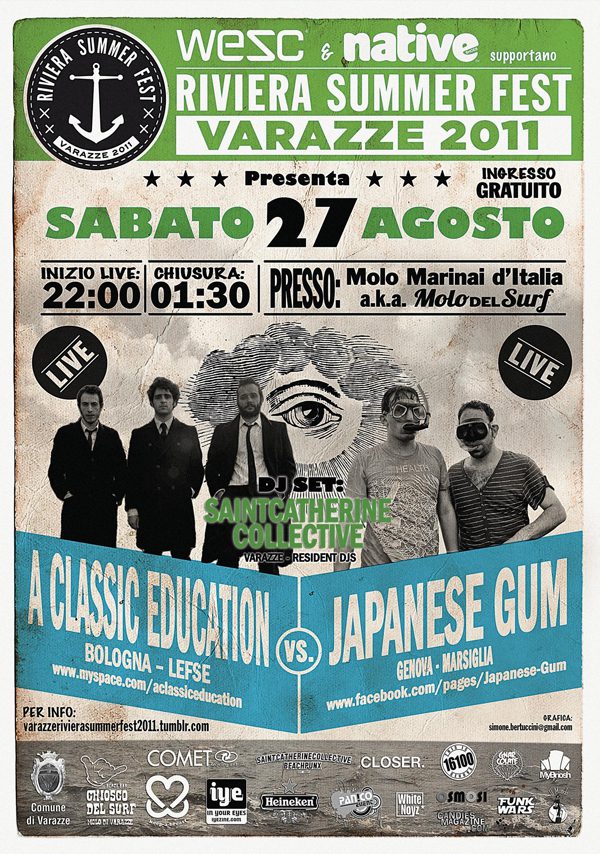 Riviera Summerfest 27 Agosto
Molo del surf Varazze – ingresso gratuito – inizio live h 22.30
– 27 Agosto-
Opening Act Live: Japanese Gum (Genova – Marsiglia Records)
Live:A Classic Education (Bologna – Lefse)
Djset : Saintcatherinecollective (Varazze – Local Heroes)
-A Classic Education-
A Classic Education stanno per presentare in tour il loro ultimo lavoro Hey There Stranger in uscita in questi giorni per l'etichetta californiana Lefse (Neon Indian, Dominant Legs, Houses).
La musica psych-pop ricca di melodie sognanti sixties e wave è stata incensata dai maggiori magazine, siti e blog esteri e italiani come Gorilla Vs Bear, Nylon Mag, The Fader, Brooklyn Vegan, MBV, Polaroid, Rolling Stone, Rockit, Rumore, Blow Up ed è stata scelta da SPIN come una delle band rivelazioni dello scorso South By SouthWest, il festival di Austin, Texas. La band negli ultimi due anni ha fatto una sessantina di concerti tra Uk e Stati Uniti. 
Negli ultimi due anni la band ha fatto uscire singoli per Holiday Records (The Drums) e per Bailiwick oltre ad un EP autoprodotto in vinile. Il loro live sognante è stato portato in tour tra Uk e Usa (Sxsw 2009 e 2010 e Cmj festival 2009 e 2010).
A Ottobre 2010 la band è tornata a New York per suonare al festival CMJ, 5 date in 5 giorni, e si è fermata a Brooklyn per registrare il prossimo disco in uscita in primavera con Jarvis Tavenerie dei Woods.
A Classic Education sono Jonathan Clancy, Paul Pieretto, Luca Mazzieri, Federico Oppi, Giulia Mazza, Stefano Roveda.
Mentre erano negli USA hanno anche registrato un pezzo per le session di Shaking Through, a Philadelphia:
www.shakingthrough.com/aclassiceducation
Mentre a novembre hanno registrato un concerto/performance alla Fondazione Arnaldo Pomodoro di Milano per Pronti al Peggio:
http://prontialpeggio.vitaminic.it/index.php/sonoinlista/sonoinlista-a-classic-education-live-in-prima-serata/
sito web: www.aclassiceducation.com
myspace: www.myspace.com/aclassiceducation
fb page: www.facebook.com/aclassiceducation
-Japanese Gum-
Japanese Gum is an experimental psychedelic Italian three piece originally from Genova born in the spring of 2005.
The band consists of Davide Cedolin, Paolo Tortora and Giovanni Stimamiglio (from May 2010).
JG music is characterized by wall of echoed sounds, hypnotic vocals, electronic glitch beats mixed with natural drums and live loops, but it's not right to define their sound into a specific kind: the band is always looking for new developments and different sound solutions: from the first release "Talking. Silently e.p." (Marsiglia Records), focused on an ambient-glitch type of soundscapes, to "Without you I'm napping", oriented to massive shoegazing guitars melted with psychedelic obsessive loops and first real percussions ever.
During the sessions for the first full-lenght, Japanese Gum put some unreleased tracks/versions together with few friends' remixes into "Lost in weirdness" (remixes by Isan, Die Stadt der Romantische Punks, Eniac…) released for the Turin based label Chew-Z.
The full-lenght album "Hey Folks! Nevermind, we are all falling down" has been released in september 2009 by the japanese label Friend of Mine records, and it's a perfect balanced combo of liquid atmosphere, droning guitars, suspended vocals, electronic patterns and real drums; many featuring on this album, such Freddie and Chiara Lee from Father Murphy and Blown Paper Bags. On september 2010 some new stuff: "End Of Summer e.p." has been free released on the band website and then also published as 200 handmade 3″CDR edition featuring Daniele Carretti from Offlaga Disco Pax, Stark Vision Of The Morning and Greta Liscio from Still Leven. After the European tour that crossed Slovenia, Czech Republic, Slovakia, Germany, Norway, Denmark and France, during November 2010, Japanese Gum started to work on new compositions that will be included into two new releases expected for 2011, one e.p. and the second full-lenght.
By the years, Japanese Gum has toured and played with artists such Victory at Sea, A Hawk in an Hawksaw, CRTVTR, Prince Rama of Ayodhya, Stafræn Hákon, port-royal, Judith Juillerat, Giardini di Mirò, Europ Europ, Mindy Misty, Library Tapes, Far From Tellus, Bodycode, Shackleton, Tempelhof, Sea Dweller, Matteah Baim, Jenniferever and many others and will tour in USA for the first time next September.
Line up:
Paolo Tortora; pedals, guitar, samples, synthesizers, percussions, vocals.
Davide Cedolin; pedals, vocals, guitar, percussions, samples, keys.
Giovanni Stimamiglio; percussions, drums, keys (2010-present).
soundcloud: http://soundcloud.com/japanesegumweb
fb page: www.facebook.com/pages/Japanese-Gum
-Saintcatherinecollective-
(Varazze)
I Saintcatherinecollective nascono in un piccolo locale Varazzino, nelle'estate del 2007, quasi per scherzo, cominciando a proporre dei djset che toccavano dal rock indipendente alla nu rave/electro, che si stava imponendo come fenomeno di massa. Nell'inverno diventano resident , assieme a This Was Tomorrow ,di Closer Party ,one night Genovese che porterà in città i nuovi suoni della dance europea. Partecipano al "Summer Rocket" nell'estate del 2008 ,aprono per Stefano Fontana e Shit Disco. Nella primavera del 2009 nasce il'" Varazze Vans Off The Wall Spring Classic" manifestazione legata allo Skate che negli anni è diventata un appuntamento in grado di richiamare migliaia di giovani in Riviera, della quale ,i Saintcatherinecollective ,diventeranno parte integrante, animando il party serale. Da una festa in spiaggia nella stessa estate 2009 , che richiama centinaia di ragazzi solo con l'ausilio del passaparola ,nasce l'idea del Riviera Summerfest , che li vede nelle veci di parte organizzativa e di contatto con gli artisti. Sono la principale scena di musica electro legata agli ambienti skate e surf in Liguria ,il duo è composto da Gianluca Perata e Stefano Caletti, surfisti locali del celeberrimo spot Varazzino; hanno background musicali diversi, punk-hardcore il primo, house-elettronica il secondo; entrambi hanno esperienze musicali vissute in prima persona, Gianluca ha militato come batterista in una oscura band hc-straight edge Genovese dei primi anni 2000 ,"The Sinatras", Stefano ha alle spalle alcuni anni come dj radiofonico in una trasmissione che si occupava principalmente di suoni legati alla house, deep house e al panorama elettronico mondiale.
Hanno portato il nome di Varazze in club come i Magazzini Generali di Milano, resident dello Snowbomb Party e del Riviera Summerfest , hanno diviso il palco con Reset!, Pink Is Punk, Scuola Furano, 100% Presi Bene, Shit Disco, Stefano Fontana, Jack Beats, Girl Unit, One Two, Raziek, Victeam, His Majesty Andrè. Da buoni liguri, riservati e poco inclini ad apparire troppo, hanno sempre scelto di esibirsi nelle manifestazioni più importanti del loro territorio, non producono, ma con cadenza stagionale pubblicano dei mixtape, che lasciano in condivisione on-line, riscuotendo sempre un numero altissimo di download.
sito web: http://soundcloud.com/saintcatherinecollective
http://varazzerivierasummerfest2011.tumblr.com