Dear readers, here you are with the interview we've done to Chill Filtered, a very prosiming italian band from Pesaro that i hope you'll come to know better in the near future.
Their roots are basicly rock, and their music is based on a strong coexistance of pop and electronics: the result, pop musicthat skims orchestral rock, trip-hop and downtempo, is really pleasant!
Chill Filtered, established in 2008, are: Enrico Ripalti (multi instrumentalist, arranger), Christian Del Baldo (singer), Enrico Lucarini (keyboards, arranger), Lucia Turchi/Sara Rossi (singer).
In this interesting chat they let us know something more about their project, in a moment in which they're coming to the fore with their debut album "Manifesting The Vice".
iyeFirst of all, Thank you for your collaboration in making this interview
Thank you for the opportunity to talk with you.
iyeYou define your music as Electro-Pop and Alt-Pop, but i would say that it's also close to Downtempo and Trip-Hop, do you agree?
We think it's difficult for nearly all musicians to set their music into a defined genre, and Chill Filtered sound makes no ecception: in most cases you take the risk to be imprinted an improper or misleading tag, whilst the aim and the task of a musician is to create music without being forced to respect the rules of a particular genre
Apart that, those tags you mentioned are possibly the most suitable for our music, and in particular if you talk about trip-hop, because our emotivity and the pleasure in the juxtaposition of real instruments, samples and synthetised sounds derive from it.
iyeWho are your "reference points", milestones and source of inspiration? From your biography we can desume that your influences turn around rock classics (for example Doors and Zeppelin), but i guess they're not the only ones…
That's right! We've always been fond of rock music, but talking about what is close to Chill Filtered sound, trip-hop and electro-pop bands like Portishead, Hooverphonic and Morcheeba, but also Moby, Groove Armada and composers like Hans Zimmer and Marco Beltrami are surely the most proper for representing our source of inspiration
At the same time, some of our tracks that you can hear nowadays in this form, had been conceived at first like pop/rock tracks: in his embryonic phase "Welcome to the Vice" could have been for example a Led Zeppelin's ballad! A relentless piano, distorted guitars, and a linear drumming (this one has survived) are the base for strong but melancholic vocals. It means that we simply focused on music itself and not on following a particular clichè: we've always been guided by what we loved and would like to hear.
iye"Chill Filtered" are very different from "Gold Mine" (their previous project, ndr): what has changed and how did you come to this new identity?
To be honest it all started with a practical matter…as after Gold Mine's split up we remained only two (E. Ripalti and C. Del Baldo), we had to do something that could work well even with the effort of only two musicians. But the way we were once forced to follow soon brought us great excitement, and that's how Manifesting The Vice was conceived.
iyePlease tell us something more about your album.
Manifesting The Vice has required a long and meticulous effort in bringing out the themes and the sound we were searching for, and in its arrangement. Moreover we firmly wanted to follow the instinct in the creation of every song, because it was essential for us to let the inspiration follow its first and original artistic concept, without being managed by current musical technology.
The rock approach has remained in compositions, and then we concentrated on the manipulation of sound, in order to make our songs work even if performed simply by voice and guitar.
Nevertheless, we believe it's important to try and make something suitable for a pretty large audience, also in a "niche" genre like ours: we want to share our feelings with everyone who's able to feel close to them.
iyeCan you tell us what is every member's aid to the project? And what's the recipe of your "extra smooth chilling elation", as you call it in the booklet of the album?
Well, the recipe is a secret, but we can unveil its main ingredients!
Enrico Ripalti: I usually draft an idea for arrangements, using a rhodes or a guitar, and improvising a drum groove, trying to imprint a mood or an emotion I feel in that moment or I remember from the past. I learnt that you have to be quick and trust the instinct if you want to create something interesting, fresh and innovative, faithful to your original idea, and not to waste time on all those computer stuff and programmes available nowadays: it's all completely useless if you don't have a good idea. After first arrangement, we play it on together, and starting from Enrico (Lucarini) we try to refine the sound and the instruments
Christian Del Baldo: starting from the first drafts i improvise some vocals that we immediatly record. These first vocals often becomes the base for the next and definitive ones, which are set and concluded with Sara adding other complementary vocals or particular edits. During all the creative flow I try to keep a good interaction with arrangement, and I contribute to it with bass guitar or guitar. I sing in English but the fuel is Italian…grappa!
Enrico Lucarini: I work on the harmony of the songs and on instrumental parts, bringing in Chill Filtered's mix the ingredient that concerns something like live dj-ing: I mix up performances with keyboards, controllers, and I always try to draw out something new. You have to make it develop, to follow the tide. Every performance has to be unique and has to respond to what is happening and what you're feeling whilst you are playing it.
Sara Rossi: I replaced Lucia when the work was nearly finished, and I was very surprised by the album since first listen; I've been a friend of her for many years, and when I was asked this opportunity, I felt I could not refuse! The other guys and me intended to reorganize vocals for lives, also searching for something new and different from the record, but still preserving the cornerstones of Chill Filtered sound. With Christian's aid, we also approached some covers in order to draw out remakes that could be closer to Manifesting The Vice imprint.
For sure in the next album my contribution will be stronger, as I already have many ideas on new texts and melodies: you'll soon listen to something fantastic, I guarantee!
iyeQ: What do your music try to communicate? Personally I think that the record conveys sensuality and a vague escapism, and tell me if I'm wrong. What's your message?
Well, these are certainly basic feelings in our music. Sensuality and the pleasure in an aesthetic quest for the "Beauty" are crucial to us. Many songs from "Manifesting The Vice" are such short films, sequences of images stolen from real life and then rehashed.
The situations we live in everyday life could very often seem banal if observed by distant eyes or if simply judged for their meaning: on the contrary, if lived with more awareness, they can set up the base for multiple creations! A playing card with its smile becomes a gambler's nightmare and the nightmare itself starts to rule the game while the gaming table cries the unlucky's fate. "The Joker" is about this murky and wicked character you find in playing cards, trying to create a story upon it: something we all know but we seldom contemplate.
In this sense we also collaborated with a great emergent writer, Stefano Rossi, with whom we shared a part of our record's creative process, drawing on his narrative and rehashing some features from it.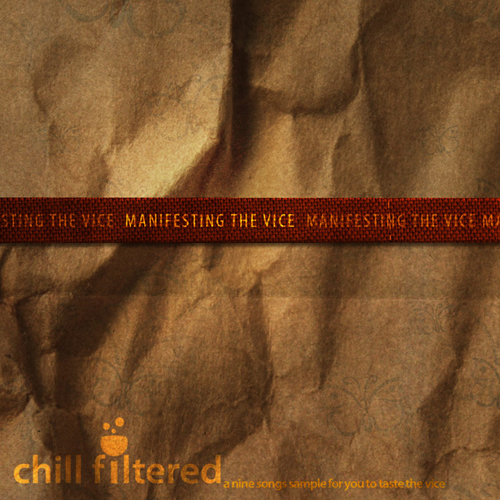 iyeQ: By now, we're inevitably curious about a word which is recurrent and outstanding in your album: what is the Vice you're talking about?
The Vice, as we intended it, is something pervasive and many-sided: music itself is in a way musician's vice. It's something we are not able (and don't want) to drop off ourselves. So we tried to "manifest" the vice in some of its various forms: a drug addicted, a gambler, a wandering man who runs away from his memories, an old boxer who lives in his past.
iyeQ: Could you explain us your interest in inserting your music in other artistic projects such as films, as you say in your website?
The world around us is permeated by multimedia contents, therefore it would be restrictive if our approach was only bound with traditional transmission channels for music. For instance, Manifesting The Vice has recently been the soundtrack of a Pomellato fashion show in London. We wish that cinema, advertisements, tv programs, theatre, fashion and whatever creative form of expression could take inspiration from our music.
iyeQ: And now, a very common question: have you got other material ready for eager listeners, who got involved in your music with your debut album? What are the plans for the post-debut, are you going to go this way or to experiment something different?
We surely want to go this way, and we've got many ideas, but at the moment we're focusing on the promotion of the album (which is a self-production, ndr) and the efforts to build a compelling live show. We are dividing our time into these two activities, but the will to make up new songs is always difficult to control!
iyeQ: Are we going to see you touring around Italy?
For sure! After concentrating a lot in building our own sound and in producing Manifesting the Vice, we're going to create a performance which will be something unique and captivating, with the elements related to a rock show and some aspects typical of live dj-ing too, melting real instruments and samples. We'll also give great importance to improvisation, which will make every show different to the others. It'll be great!!
We'd obviously like to make our music be valued and cherished always more, both in Italy and in other countries.
iyeQ: Thank you very much from IYEzine and good luck! We wish to talk about you also in the future!!
That would be great! Many thanks to You and to In Your Eyes Magazine's readers.