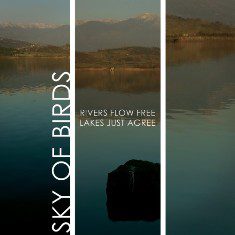 Sky Of Birds – Rivers Flow Free, Lakes Just Agree
Sovente semplicità è sinonimo di piacere, perché non serve essere estremamente complicati o complessi per realizzare qualcosa di gradevole e ben fatto.
A partire dall'artwork, questo primo EP degli Sky Of Birds soddisfa in pieno questa regola: copertina curata, fine ed elegante, rassicurante come lo scorrere tranquillo di un fiume che si confonde nelle acque del lago che lo accoglie.
E si possono usare le stesse parole per definire le note di queste 4 canzoni.
Il titolo poi è geniale, Rivers Flow Free, Lakes Just Agree, a conferma di quanto di naturale possano essere certi fenomeni, e di come l'uomo non sempre sia necessario.
Mi vengono in mente i Girls rallentati, come se destinati ad un pubblico più maturo.
Un mix di country, folk e alternative rock americano genera un cocktail di emozioni soffuse e sommesse, ma intense, naturale prosecuzione dell'eterogeneità degli esponenti di questa giovane (di formazione) band.
Tracklist :
1. Are You Ready
2. Collide
3. Big Former Time
4. Snipers
Line-up :
Mario Martufi – Lead Vocals, Guitar
Alberto Capoccitti – Guitar, Keys, Sequencing, Backing Vocals
Sandro Traversi – Guitar, Electric Piano, Backing Vocals
Simone Podagrosi – Bass, Backing Vocals
Strueia – Drums
SKY OF BIRDS – Facebook