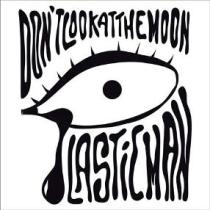 Plastic Man – Don't Look At The Moon
I fiorentini Plastic Man, formazione a tre che vede tra le sue fila membri dei Go!Zilla e dei Casanovas, debutta, dopo l'ep del 2013 uscito per Misty Lane Records, con i dodici brani di Don't Look At The Moon, disco a metà tra rock'n'roll, garage, pop e punk.
I ritornelli determinati di North Polar Land, incastonati tra chitarre pronte a disturbare e sezione ritmica in primo piano, apre allo spirito più acido e psichedelico di Blue And Black Dream e all'urgenza più spigolosa di Black Hole.
L'andamento sempre lievemente sbilenco di Needle Point, variando tra aperture, momenti intensi e altri decisamente più distesi, lascia campo al sound corposo dell'appiccicosa Paroxetine, mentre il contrasto fra linearità ritmica e ondeggiamento melodico di Don't Look At The Moon, introduce l'andamento stile "musica da giostra" di He Didn't Know e le crescenti derive ipnotico/deliranti della psichedelica Rolling Machine.
Il festante correre di Tom's Tree, invece, sfrecciando dritta su note di chitarra, basso e colpi di batteria, cede spazio all'andamento più ritmato e malato di Sun Is Going Mad e l'animo più festante di Mike, The Center Of The World.
La breve Play The Card, infine, basandosi su chitarra compressa e spernacchiante, chiude il disco, facendo dell'utilizzare il minor numero di suoni possibili il suo punto di forza.
Con questo debutto i Plastic Man più che convincere lasciano qualche dubbio. I dodici pezzi presentati, infatti, mescolando garage, pop, punk e acide sonorità anni 60/70, non catturano mai l'attenzione dell'ascoltatore, lasciando piuttosto un senso di sopportazione e delusione. Un disco che mi immaginavo migliore di quello che in fin dei conti è. Peccato.
Tracklist:
01. North Polar Land
02. Blue And Black Dream
03. Black Hole
04. Needle Point
05. Paroxetine
06. Don't Look At The Moon
07. He Didn't Know
08. Rolling Machine
09. Tom's Tree
10. Sun Is Going Mad
11. Mike, The Center Of The World
12. Play The Card