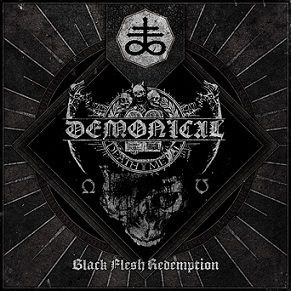 Demonical – Black Flesh Redemption
Tornano i Demonical e lo fanno con un poker di brani eccellenti, confermando l'ottima vena già dimostrata nel precedente album di due anni fa, "Darkness Unbound".
Nati per mano di due musicisti degli storici Centinex , Sverker "Widda" Widgren (voce) e Martin Schulman (basso) ed aiutati in questa avventura dal chitarrista Johan Haglund, la band invero gira già da una decina d'anni, avendo licenziato già quattro full-length e tre split con nomi altisonanti della scena estrema come Absu, Paganizer e Nunslaughter.
Questo è death metal old school, non si scappa, Black Flesh Redemption ci insegue inesorabile e non si può sfuggire allo tsunami di note estreme che ci investono catapultandoci nelle pieghe più classiche del genere ma con suoni freschi, prodotti dal singer in modo egregio, e con ritmiche assassine, che squartano l'aria lasciando poi spazio a rallentamenti che si trasformano in colate di lava incendiaria.
L'Ep offre tre brani di altissima qualità, Cursed Liberation, Drown in Flames e To Become the Weapon, ed un capolavoro, Throne of Perdition, monumento al death metal scandinavo, oscuro, inesorabile nel suo lento incedere, freddo e malvagio, devastante nella sua fase centrale e funereo nel suo ritorno a ritmi monolitici.
La band quest'estate sarà presente al Summer Breeze, appuntamento storico tra i festival europei, ed è in partenza per un tour con i Gehenna: questo Ep costituisce un ascolto obbligato per i fan del death metal suonato dai gruppi storici nati nelle fredde lande scandinave, Dismenber, primi Entombed e Grave su tutti.
Tracklist:
1.Cursed Liberation
2.Drown in Flames
3.Throne of Perdition
4.To Become the Weapon
Line-up:
Martin Schulman Bass
Sverker "Widda" Widgren Vocals
Johan Haglund Guitars