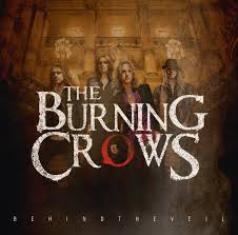 The Burning Crows – Behind The Veil
Protagonista dell'album è il cantante Whippz, dotato di personalità da vendere ed una voce calda e passionale; l'hard street molto inglese del gruppo emerge subito in High e nella riuscita You, Me, Tonight, mentre appaiono un po' scontate le ballad, ma la band torna in carreggiata con pezzi come Say My Name, dal riff alla Whitesnake anni '80, quelli del Coverdale plastificato, e Behind The Veil, title-track posta alla fine dell'album e dal tiro 'Crue.
La produzione è perfetta, e non poteva essere altrimenti con Nick Brine dietro la consolle.
Per i fans ascolto obbligato.
Tracklist:
1.High
2.All the way
3.You,me tonight
4.Time
5.Fallin'
6.So wrong
7.Here i am
8.Say my name
9.The queen
10.Devil my care
11.Slow up,get down
12.Behind the veil
13.Going down(bonus)
14.Best damn everything(bonus)
Line-up:
Whippz – vocals,guitars
Lance Daniels – guitars
Will Lockett – bass
Chris Chapman – drums