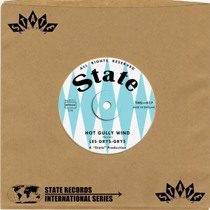 Pubblicato il 13 Ott 2014
Scritto da Mr. Cigarette Butt
Eccoli qui, con il loro sette pollici nuovo di zecca, direttamente da Montpellier: il quintetto spinge duro con delle sonorità tra The Downliners Sect, Rolling Stones e Count Five, cioè pura dinamite, baby!
Il loro è un sound 60's ma tutto bello suonato lo-fi; quel rhythm and blues che ti prende e ti avvolge in un abbraccio di filo spinato e ti fa girare come una trottola, ingurgitare litri di whisky e ballare tutta la notte!
Sicuramente Hot Gully Wind (facciata A del disco) è quella dai suoni più british : i primissimi The Yarbirds e/o The Animals, pur sempre con quella grinta che rispecchia la brutalità delle bands garage-punk a stelle e strisce.
Invece Neighbour Neighbour, che copre la seconda facciata del disco, spara taglienti chitarre stile The Downliners Sect e Count Five, con una conclusione rumorosa stile The Who , live ovviamente.
Usciti per la State Records in sole 300 copie, di cui la metà con inserto interno numerato a mano, come si faceva una volta.
Tracklist:
A1. Hot Gully Wind
B1. Neighbour Neighbour