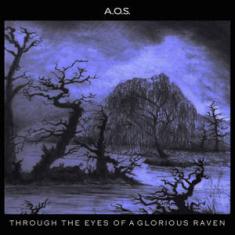 A.o.s. – Through The Eyes Of A Glorious Raven
Blackened hardcore si definiscono gli A.O.S. (Anthem Of Sickness), band nostrana all'esordio per Wormholedeath con questo gioellino di metallo originale dal titolo Through The Eyes Of A Glorious Raven, Ep di una quindicina di minuti racchiusi in sei brani che stupiscono per originalità e personalità.
In nostri partono dalla copertina in puro stile black metal, che spiazza al primo contatto con quest'opera, per andare oltre ai soliti clichè, cercando invece una via personale cercando di amalgamare l'hardcore con elementi che vanno a pescare in più d'un genere, regalando ai brani molto fascino e una assoluta mancanza di prevedibilità.
Pesantezza mai fine a se stessa, digressioni che portano le song ad avere sempre un forte impatto sull'ascoltatore che, ad ogni passaggio verrà rapito dall'eclettismo della band, forte nel saper stupire con cambi repentini di atmosfere, ora hardcore oriented (Midnight Riders), ora al limite di un doom/stoner annichilente e industrialoide come nella coppia finale Stone Cold Eyes / The Voice Of God che, quando accelera, si trasforma in un brano black metal in stile Darkthrone.
The Monster si avvicina più al death, mentre The Cage Inside These Walls torna ad avere uno spirito più core nelle ritmiche continuando comunque a respirare un'aria pesante data dalla tensione che il gruppo mantiene sempre elevata in tutti i sei brani.
Ottima band gli A.O.S., che immettono nella musica estrema un'iniezione di fresca originalità e buone idee e complimenti alla Wormholedeath, sempre sul pezzo quando si tratta di supportare gruppi di qualità e al di fuori degli schemi consueti.
Tracklist:
1.Midnight Riders
2. Sick
3. The Monster
4. The Cage Inside These Walls
5. Stone cold eyes
6.The Voice of God
Line-up
Bertuzz – Vocals, Guitars, Synth
Dave – Bass
L – Drums
Daniel – Guitars